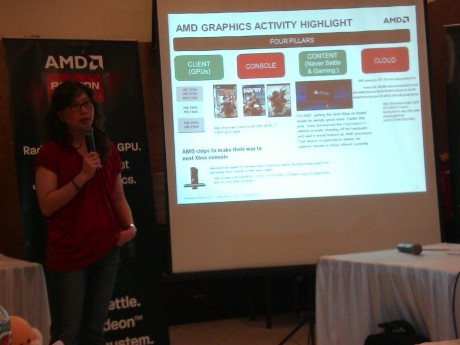 Various manufacturers rely on their strategy to dominate the market occupies, is no exception AMD rely on four pillars as a crutch to dominate the market, especially the graphics card segment.
The four pillars are Client, Console, Content and Cloud, who was a mainstay AMD to further strengthen its dominance in the segment of the graphics card.
"The four pillars of this is the strengthening of the existence of segmented AMD graphics processors," said Jenny Susanto, Indonesia Country Manager of AMD, in Ancol, Jakarta.
The first pillar is filled by the client is AMD's strategy to increasingly gripped in the realm of graphics processors to try to strengthen its collaboration with the graphics card vendors to deliver new graphics card products in accordance with the wishes of the computer users, especially gamers.
Whereas the second pillar is occupied Console equip success successful AMD game console generation like the Xbox 720 and PlayStation 4 'Durango' to product System on Chip (SoC) telefilm which must be armed by the sector Radeon series graphics processor.
The third pillar is represented Content intensified efforts AMD holding game developers to bring games that can give a new gaming experience by optimizing the features of the Radeon graphics processors.
As seen in the latest Tomb Raider game that relies TressFX feature, showing the hair flapping motion realistic.
In addition it also describes efforts Content pillar AMD seeks to provide more value graphics card product by presenting free games for gamers who buy graphics cards Radeon.
While the last pillar of the inhabited Cloud is an effort established his name as an expert AMD graphics by presenting a game through Cloud technology solutions with AMD Radeon Sky products that are specially prepared to arm the cloud gaming service.
"For us in Indonesia focus on the pillars of Content that seeks to provide more value through bundling free games that come with Radeon graphics card products. For gamers can instantly feel the greatness of Radeon graphics cards after buying it" he said.