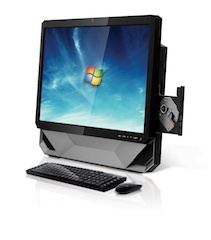 Advan local vendors, try to offer new products that anti-mainstream of what is on the market, namely desktop computers with additional TV Turner.
Is Deskbook, an All in One PC which is the latest product from Advan. This desktop has a variety of advantages, some of which are Energy Saving, Upgradable, Silent, Space Saving & Heavy Duty, Adjustable Display Stands and TV Tune
Energy Saving Advan Deskbook owned technology called "Nano Power Supply" is the development of hardware technology with a smaller scale to supply electricity to all parts of the electrical current and the set is only 65% or just use the electricity consumption of 65 watts.
With breakthrough Space Saving & Heavy Duty Advan Deskbook on course design and sleek stylish.
Well this is unique, this desktop also comes with a TV tuner that has been built in, so you can put it in the living room to watch TV. So that was quoted by his statement on Sunday (14/04/2013).
Another plus on Adjustable Display screen, measuring 23 inches by the user can freely adjust the screen position is more comfortable to watch HD-quality movies, various music, and games.
In the specification, Advan Deskbook using G620 processors ranging from Intel Core i7 processor with up to 2 GB of DDR3 RAM. With the processor performance condition Advan Deskbook work is not noisy and fast.
Advan Deskbook is equipped with the Intel HD Graphics as well as dual stereo speakers.
Advan Deskbook include USB 2.0 ports (6 pieces) and USB 3.0 ports (1 piece) to make it easier when you want to watch movies directly from flash.
There is also a memory card slot. The device weighs 9 kg is very practical for you as it comes with a portable keyboard and mouse. Powerful Multimedia PC is priced at Rp 5 million-6's.