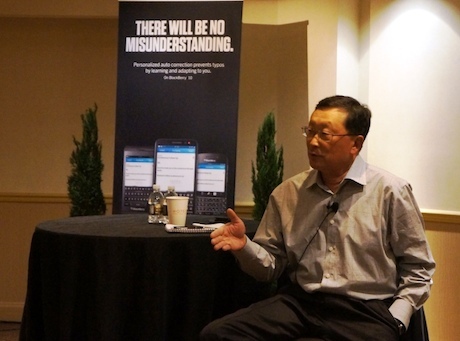 John Chen , CEO of the BlackBerry , did not want to give up so easily see its market share continuously undermined by iOS and Android . A number of strategies were prepared to revive the company's business slumped .
" I was challenged to be able to generate profit from the device . Therefore should be able to make the BlackBerry device favored by many people , " Chen said in an interview that attended restricted on the sidelines of CES 2014 in Las Vegas , USA .
Admittedly , the condition of the BlackBerry company is not in good condition when he was asked to replace Thorsten Heins . When Chen was appointed as Interim CEO , the company was in a state of losing $ 2.6 billion in the last two quarters .
Also increasingly felt a severe blow when he knew the BlackBerry 's market share only the remaining 1 % in the global market . With this miserable condition , the BlackBerry was forced to take a less populist decision to lay off 4,500 employees in order to cut operating costs .
Slowly but surely , the BlackBerry under the command of John Chen was slowly taking shape . Directors old underachiever , slowly begin to be removed and replaced with a new, fresh face .
After ejecting the directors of the old relics Heins , including Alicia Keys , Chen began to bring John Sims to handle the business enterprise and Ron Louks for business devices . Previously , Chen also has raised James Yersh to reorganize the financial affairs of the company .
" Then we will also try to improve the supply of the device . Therefore , we work closely with Foxconn in various countries , " said the former CEO of Sybase further .
He explained , Foxconn will play a major role for the device production line specifically targeted for emerging market segment lower middle class . While the BlackBerry will focus on developing software and some software designed specifically for the upper middle segment .
In addition to saving the cost of production , delegate this task also believed Chen would reduce the burden on the BlackBerry in its effort , so no farther and farther behind Apple and Samsung . Foxconn experience in producing quality devices such as the iPhone and iPad is also an added value .