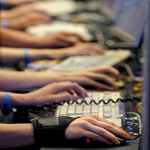 A total of 80 participants endurance race game play for 150 hours non-stop MURI finally managed to break the record. Note this time breaking the record set the previous record. Based on a MURI, total endurance time playing games that do the race this time is for 165 hours.
"The times have just achieved a new record. Therefore executing the race, which is entitled to a charter Xtreme Gamer MURI," said Manager MURI, A MURI Ngadri when submitting the charter to the representatives of the Xtreme Games in Parisj van Java, this weekend.
Endurance race 150 hours of nonstop gaming is held starting on Saturday (06/25/2011). Total 8 days gamers are playing nine categories of game provided by the committee. Games are contested among other Point Blank, Cross Fire, Let's Dance, Avalon, Idol Street, GetAmped-X, Granado Espada, Winning Eleven, Tekken 6. In the contest, participants were divided into two categories, groups and teams.
"Every day, the participants play different games," said Mengky Mangarek, Business Development Manager, PT. Cyberworld Network Indonesia – Xtreme Gamer licensees.