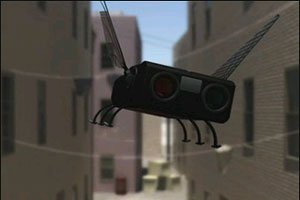 CCTV cameras may soon be ancient device with robotic presence on this one. The scientists developed a robotic fly complete with sophisticated intelligence system that can spy on and track criminals.
Users only indicate a location on Google Maps that appear on the touch screen controller on the robot. Furthermore, the robot will fly at a speed of 30 miles per hour to record HD quality video around that location. Videos can also be displayed to the iPhone in real time.
Quoted by the Daily Mail, Monday (05/16/2011), a robot named Scout was able to fly at an altitude of up to 500 feet or approximately 152 meters. Scouts can take pictures in a zoom in from a distance of 300 meters. That is, Scout can perform its mission without having to go near to the object being the eyes on him.
Developed by a team of scientists at Aeryon Labs, based in Canada, a tiny robot with four propellers are also designed to be quiet so as not to cause noise while recording situations.
The developers claim, Scout became the most sophisticated spy that exist today. Another plus, Scout also allows users to view the situation from afar Scout recorded through a variety of devices, from computers to smartphones.