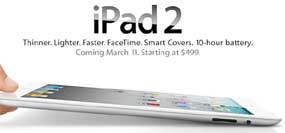 Year 2011 is the era of dual-core tablet. Likewise with the iPad 2, which comes with all the benefits A5 processor. Not only that, the body was designed iPad two more 'sexy', the thinness of 8.8 mm, thinner than the iPhone 4.
As quoted from Knowyourmobile, Thursday (03/03/2011), IPAD 2 has dimensions of 241.2 x 185.7 x 8.8 mm, weighing just 607 grams. While previous generations iPad dimension 242.8 x 189.7 x 13.4 mm, and weighs 730 grams.
Not only that, IPAD 2 camera equipped with two sides that can record video up to 720p HD resolution. Users can now enjoy the iPad two video chat feature FaceTime on the iPad.
In terms of processors, this new generation iPad been immersed A5 dual-core processor which is claimed to run 9 times faster than first-generation A4 at the iPad. It is good news for gamers iPad. Because the future games unreal engine-based games could be maximized again in this Apple's latest tablet.
iPad 2 is available in white and black color options were also claimed more power efficient, with approximately 10 hours of battery life when used to browse using Wifi, watch videos or listen to music. Meanwhile, if using a 3G connection, IPAD two last approximately 9 hours