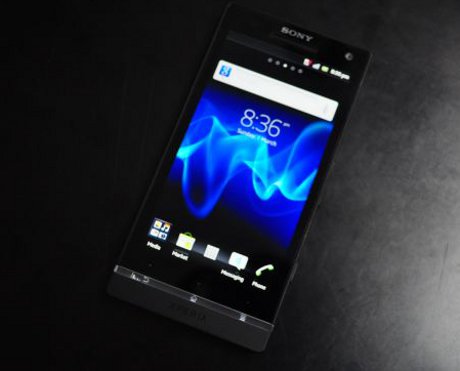 Sony has acquired the full Sony Ericsson. Japanese vendors are now strolling alone in the universe bears the smartphone with its own brand. Smartphone debut waltz with the Sony brand is Sony Xperia S. This is a phone whiz Sony is equipped with various latest technologies. What kind of ability?
Design sector worked well by Sony. As usual, they show an original and distinctive design, in the sense that people would immediately recognize that this phone is made by Sony. Xperia S rectangular strict enough.
The body is rather thick with a curved back for easy grip. And in fact, this phone is fairly steady in the hand-operated. Of particular interest is the presence of a transparent accent at the bottom of the screen.
This transparent part may shine, and there are three symbols on the top menu. But this is not a third symbol that could push buttons to operate the menu. Each menu button located just above the emblem, in the form of three points is quite small.
The handset is made of plastic that looks solid. But it is quite disappointing because it is less noticeable given the premium price of this handset over Rp 5 million.
There are various buttons and ports around the body Xperia S. Including the volume buttons, USB port, Micro HDMI and of course Tombo on / off. Fun, there are dedicated camera button making it easier for users who want to quickly take a picture.
High Definition screen
Xperia S has brought the Xperia screen HD (High Definition). With the resolution achieved 1.280×720 pixels, users can enjoy a brilliant display. Images, video and text displayed with excellence. Moreover immersed Mobile Bravia technology.
Mobile Bravia is claimed to increase the sharpness, contrast and color saturation of images and videos that appear on-screen handset Sony. In addition, it also minimizes noise digital photos. And indeed the results are quite obvious.
Highlight the operating system, the Xperia's still carrying the Android version 2.3 or Gingerbread. This handset Sony promises will be upgraded to the Ice Cream Sandwcih some time to come.
Sony adds a distinctive touch on the Xperia S to distinguish the interface from handset to another Gingerbread. Such as live wallpaper presence of fog with a variety of colorful themes ala Sony.
There are five pieces of the usual homescreen widgets can be filled as the user desires. Main menu can develop applications in a variety of species, including the most widely used. Sony is also adding a lot of trademark applications in this handset.
12MP camera
One of the benefits Xperia S is a sector that has a camera 12.1 megapixel resolution. This resolution is one of the highest in the ranks of high-end smartphones are currently available, coupled with the Nokia N8.
Access the camera is running fast, in which after the application is pressed, the camera can be used directly. The camera is equipped with Exmor R technology for higher sensitivity and can take pretty good pictures in low light conditions.
Xperia's camera to take pictures with pretty good detail. But in low light conditions, Exmor R seems to lack a lot of help where scattered noise is still visible.
There are panorama mode that is functional and a wide selection of scene modes as well. Xperia S can also record full high definition 1080p video with adequate results.
Adequate performance
Armed with a 1.5 GHz dual core processor made by Qualcomm and 1GB of RAM, Xperia's performance did not disappoint. Loading applications run faster, only a fraction of a second. Users can directly access the menu favorite.
Similarly, experience in web browsing, where scrolling was smooth even handle heavy websites. Similarly, switching between screens as well hurry with no visible presence of lag.
Xperia S has relieved internal storage of 32GB. But do not look any microSD slot so users must set the content not to exceed available capacity.
Sector accounted capable audio with crystal clear sound and powerful speaker. Especially when heard through headphones, the sound of this handset can be floated more stable.
Xperia S in the category Playstation Certified, meaning able to play PlayStation games. PlayStation games can be downloaded via the Android Market with the different availability for each
With normal usage, the battery can last Xperia S in 8 or 9 hours. For the record, the battery in the handset can not be removed, together with the body. Another note, Xperia S uses a micro SIM to access the cellular network.
Conclusion
With a clear high-definition screen, 12 megapixel camera and processor speeding, Xperia S entered the ranks of Android with a high specification at this time. The design is also pretty classy and original, though not to the level of amazing. Unfortunately, the body is made of plastic and Android OS has not brought the latest version. However, phones that can be redeemed at the price range of $ 5.5 million remains in the category excellence.
Pros:
– The screen is clear
– Nice camera
– Performance Tracks
Disadvantages:
– Plastic Body
– There is no microSD slot