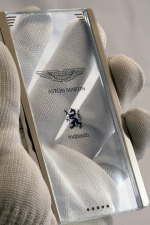 Known as Aston Martin luxury sports car manufacturer. What happens if the vendor of this British made ??Android phone? Look at his form in a transparent mobile phone concept called CPT002.
In making this phone concept, Aston Martin work together with Mobiado, a manufacturer of luxury mobile phone. Predictably, CPT002 phone is indeed elegant looks, because it is made by two manufacturers of tasteful luxury.
Reported by UnwiredView and quoted on Monday (3/28/2011), not many details revealed about the smartphone. To be sure, capacitive screens on this phone is fully transparent and will display various startup menu.
Sapphire crystal screen material is solid. Fun, this phone is said to be the key for Aston Martin car. In addition, it can also connect with the monitor in a car Aston Martin.
CPT002 Smartphone is rumored to be slid in May. The price has not been mentioned, but it seems quite expensive for the average person.