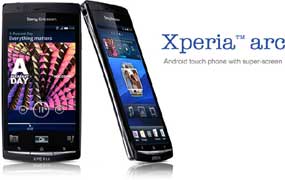 Latest Android Smartphone Sony Ericsson Xperia ie officially present d Arc of Indonesia. Gingerbread Android, smart phone brings security features such as Reality Display screen displays images brilliantly claimed.
Xperia Android-based Arc Gingerbread sold with a retail price of Rp 5.5 million. Enthusiasts can do the pre order since 16 March to 8 April through Sony Ericsson Shop Flaghship Store in Senayan City, Jakarta.
"Sony Ericsson is now indeed the focus to Android. And this Xperia Android has an advantage over its competitors such as attractive design and user interface that is easy to use," said Head of Marketing Djunaidi SE Satria Indonesia at Senayan City.
Sales pre order the Arc Xperia Sony Ericsson's flagship phone this year, along with free bonuses flash Telkomsel's packet data for six months. In addition there are special discounts for customers of the bank BNI.
In addition to screen-based Reality Display Mobile Bravia, technology commonly found on Sony television, the other mainstay of this phone is the sensor Exmor R. That feature is claimed to create a powerful 8-megapixel camera takes good pictures in low light conditions.