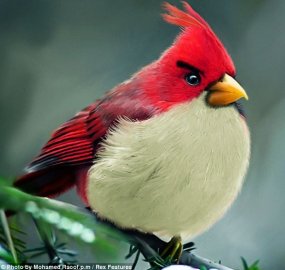 At first glance, the photo above showing a bird that is very similar to the character in the popular game, Angry Birds. Is it a bird is really there in the wild?
Apparently not. Although very similar, the image is digital engineering of an Angry Birds lovers of Indian origin, Mohamed Raoof.
"I think a real bird in Angry Birds, it did not. So I decided to make it fast on the PC. The first image is only made in about an hour," Raoof said, quoted from dailymail, Friday (11/11/2011).
Custom-made digital images Apparently Raoof favored by his friend. This motivated him to make drawings of other characters Angry Birds. According to him, making each image takes about 2 hours because work on more serious.
"I tried to reflect the shape and color of the bird, from the red to the green. I thought I could catch their character," he added.
Indeed Raoof custom picture looks genuine and in accordance with the figures in the Angry Birds.