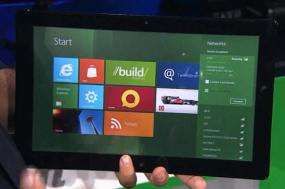 Windows 8 tablet computers this year is predicted to be present. How to deal with iPad's chances of a market leader and also a row of Android-based tablet?
Analysts said Windows 8 tablets to be sold at affordable prices and provided a lot of applications to be able to fight. Functionality should also be complete.
Amazon Kindle tablet Success Fire for example, triggered by the cheap price, $ 199. Now, Amazon Kindle iPad Fire defeated only in terms of total sales. On the other hand, the position of the other Android tablet that could be considered to weaken the opportunity for Microsoft.
"The rise in non iPad tablet shipments in the fourth quarter of 2011 reached a high cost, with discount pricing on many Android tablet and the provision of free product as part of a promotion," said Rhoda Alexander, analyst of IHS. Continue reading "Tablet Should be Cheap Windows 8 to Pursue iPad"