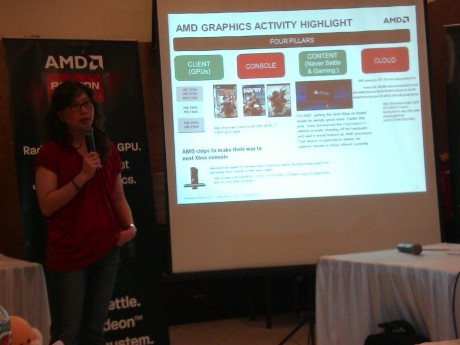 Various manufacturers rely on their strategy to dominate the market occupies, is no exception AMD rely on four pillars as a crutch to dominate the market, especially the graphics card segment.
The four pillars are Client, Console, Content and Cloud, who was a mainstay AMD to further strengthen its dominance in the segment of the graphics card.
"The four pillars of this is the strengthening of the existence of segmented AMD graphics processors," said Jenny Susanto, Indonesia Country Manager of AMD, in Ancol, Jakarta.
The first pillar is filled by the client is AMD's strategy to increasingly gripped in the realm of graphics processors to try to strengthen its collaboration with the graphics card vendors to deliver new graphics card products in accordance with the wishes of the computer users, especially gamers. Continue reading "4 Pillars ahold AMD Graphics Card Market"