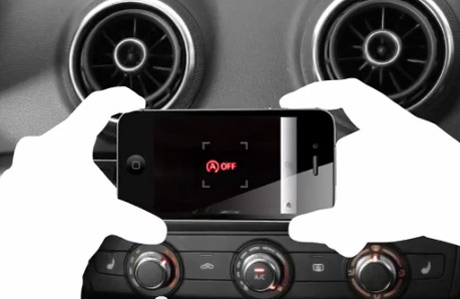 Renowned German automaker, Audi, presents a unique application. Like a personal mechanic, an application called eKurzinfo this has the ability to inform all the functions contained in the Audi luxury car and how to handle.
How to use it interesting. New application is initially available for the iPhone and iPad's camera operates by relying on the Apple device.
For example, motorists Audi look alien-looking indicator on the dashboard. Armed eKurzinfo, users only need to point the camera gadgetnya on foreign indicator in question. And once it did, the application would inform the indicator function fully.
eKurzinfo can also inform the parts related to the information the user wants to know the indicators.
In a video released by Audi, seen someone curious about the function of existing indicators in Audi car speedometer.
Instantly via iPhone in his hand, eKurzinfo informed that the indicator is an engine temperature gauge. The application also informs simple preventive measures temperature when the temperature increases.
Users will be asked to open his Audi car engine parts, and then asked to point the camera his iPhone or iPad to the machine direction.
A moment later will be informed which parts of the machine that should be followed up through a pop-up that shows the parts in question.