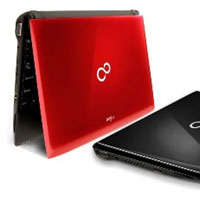 Fujitsu has a line of notebook that was recently launched in Indonesia. Starting from that intended for gamers, to the workers who want to look fashionable. There are about 9 types of laptop computer belonging to the family and a computer LifeBook All in Obe titled Esprimo EH300. All products were launched simultaneously in Grand Indonesia, on Tuesday (04/12/2011).
For Lifebook consists of several types namely Sei S (Lifebook SH761 & SH761), Series P (Lifebook P771 & PH701), Series A (Lifebook AH531), Series L (Lifebook LH701 & LH531), and Series NH (Lifebook NH751). Everything is already using the second generation of Intel Core processors that will become standard in the next Fujitsu products. All products are launched simultaneously in Grand Indonesia, Wednesday (12/4/2011) has a market segmentation is different, for example Lifebook NH751 carrying the sophisticated specifications.
Size 17.3-inch notebook features an Intel Core i7 Quadcore 2630QM paired with Nvidia GeForce GT graphics card 525M. Good sound of this product was already carrying the 5.1 configuration makes it suitable for playing games or watching movies High Definition (HD). In addition to notebooks and desktops launched All in One, Fujitsu also introduced the first netbook that carries MeeGo operating system in Indonesia. This product in order to complement the existing range of Lifebook other.
"In short, everyone will find a Lifebook which will complement their lifestyle perfectly," added Edmund Lim, Marketting Product Manager, Fujitsu PC Asia Pacific.