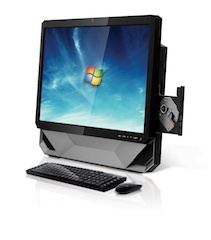 Advan local vendors, try to offer new products that anti-mainstream of what is on the market, namely desktop computers with additional TV Turner.
Is Deskbook, an All in One PC which is the latest product from Advan. This desktop has a variety of advantages, some of which are Energy Saving, Upgradable, Silent, Space Saving & Heavy Duty, Adjustable Display Stands and TV Tune
Energy Saving Advan Deskbook owned technology called "Nano Power Supply" is the development of hardware technology with a smaller scale to supply electricity to all parts of the electrical current and the set is only 65% or just use the electricity consumption of 65 watts.
With breakthrough Space Saving & Heavy Duty Advan Deskbook on course design and sleek stylish.