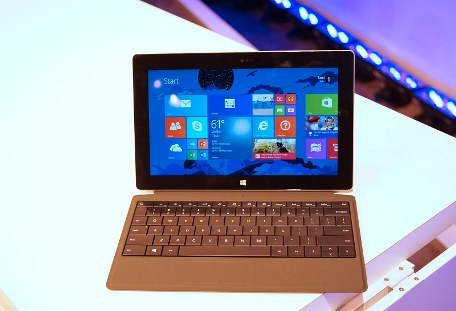 Surface announcement a year ago of the first generation, Microsoft has finally announced the successor to its flagship tablet. As announced Microsoft Surface 2, Microsoft still relies 10.6 inch landscape display in this second generation tablet.
Striking difference lies in the resolution that it has, when the first generation Surface is offered with a resolution of 1366×768 pixels, the screen thanks to the Surface 2 more brilliant full HD resolution (1920×1080 pixels) has.
Interestingly, Surface 2 will also be offered in a choice of 2 operating system, Windows 8.1 and Windows 8.1 RT.
Turning to the kitchen spur, Surface 2 is equipped with a quad-core processor made ​​by Nvidia Tegra 4 with a clock speed of 1.7 GHz. The graphics chip with 72 cores fairly gahar has.
In addition, they will be supported with a capacity of 2 GB of RAM. Own internal memory offered in two capacities namely 32 GB and 64 GB.
Another advantage lies in the audio sector where Microsoft Surface 2 equip with Dolby sound technology that is claimed to deliver a better multimedia sensation.
Regarding the price, as quoted from GSM Arena, Tuesday (24/09/2103), Surface 2 which has opened the pre-order taps offered by Microsoft starting from USD 450 or about Rp 5, 1 millions.
Interestingly, with the buyer paying the price also will get your account SkyDrive cloud storage with a capacity of 200 GB which can be accessed for a full year.