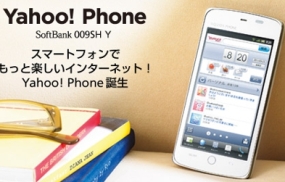 Yahoo and Google are usually less friendly because it often involved business competition. But this time, Yahoo tried to succumb to launch an Android phone, which incidentally is Google's operating system.
Yahoo! Phone, thus its name, made ??by a Japanese manufacturer, Sharp. This phone is only sold in the country devoted to the Sakura. In collaboration with SoftBank operator, the handset is planned to be marketed from next month.
Yahoo! Phone Handset pretty solid. Its features include 4 inch QHD screen (960 × 540 pixels), 8-megapixel camera with auto focus, and complete connectivity features a la Android. Indeed, this handset is a derivative of Sharp SoftBank 009SH.
Reported TechTree and quoted on Monday (8/22/2011), there are also features a TV Tuner in Yahoo Phone. Rather watch TV via mobile phone facility is quite popular in Sakura's.
Then why is called Yahoo! Phone? Apparently in which an application range of Yahoo services. So the user can access it easily in mobile.