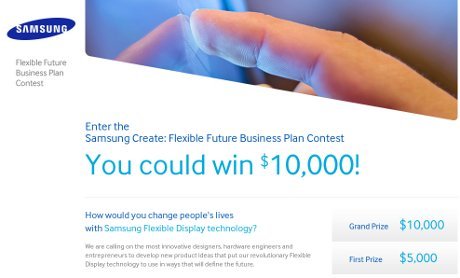 Samsung does not know what to do with the screen rigidities. Ask for help, Samsung is also holding a contest to find the best idea development Youm called the screen.
"We invite the most innovative designers, the hardware engineers and entrepreneurs to develop new product ideas that can be applied to our flexible display technology is revolutionary," said Samsung was quoted as saying on its website on Thursday (08/15/2013).
The Grand Prize winner will be rewarded with a Samsung prize worth USD 10,000 or USD 100 million. Followed on the next position First Prize and Second Prize of USD 5,000 USD 2,500.
Interested? Note the following important dates. Collecting business plan begins August 29 to October 6. The next 15 September is the deadline for the initial feasibility assessment feedback.
Youm, originally scheduled for launch late 2012. Unfortunately, its appearance should be delayed. Production of the screen that can be bent and folded is experiencing problems so Samsung decided to postpone it.
Leaked specifications have been busy circulating Youm. The screen has a size of 4.5 inches with a thickness of 0.3 millimeters and brings WVGA 800 x 480 resolution. Youm expected to give birth to a new generation of gadget design for flexibility and size that are thinner and lighter than conventional screens.
Samsung is not the only vendor who developed this kind of screen. Nokia also has been showing off a flexible display at the Nokia World event last year. LG, in fact already started mass production.