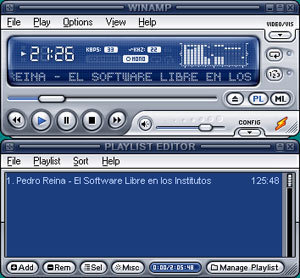 Will be shut down shortly after it was announced , Microsoft reportedly shoved Winamp . If an agreement is formed , it is not impossible that the music player can continue to survive .
As is known , AOL plans to end the trip Winamp after 15 years of flying. Starting December 20, 2013 , the 1990 popular music player until the 2000s it was scheduled to be turned off .
However, shortly after the news was announced , AOL Winamp as the owner is reportedly wooing Microsoft wants to buy a license for the music player , including internet service inside the Shoutcast radio .
No more details on this deal . Did not know what to do with Microsoft to Winamp if indeed their official later acquisition . Both Microsoft and AOL as quoted on Techcrunch , Friday ( 11/22/2013 ) .
Winamp own reasons closure plan is still a puzzle . There's no official reason presented AOL . But most likely , a media player that was released on 21 April 1997 it had to admit defeat in competition with competitors . Just look at the popularity iTunes is now reaching a number of platforms .
Nullsoft Winamp maker itself that the value of AOL has purchased more than 80 million in stock in June 1999 ago . They had released a version of Android and the Mac . Still, the number of fans is not as much as the Windows version .