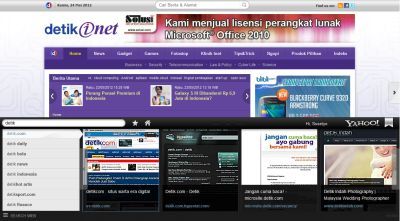 Yahoo introduced a new product called Yahoo Axis. This service is a combination of search engines with a browser.
Certainty is obtained after a number of media crews in Uncle Sam's inaugural event received an invitation Yahoo Axis. From the email was revealed, Yahoo claims this service as a new virtual world explorer tool.
Excerpted from The Next Web, Thursday (24/05/2012), there are at least three excellent features offered by Yahoo Axis. That is fast, smart design with a rich, connected experience and personal Home Page.
Although referred to as a tool Yahoo browser, but the Axis actually not really a browser – at least until now – because the shape is still a extension to an existing browser, like Chrome, Firefox or Internet Explorer.
So when you download them, then display Axis Yahoo will only appear on the bottom right are small. The advantage is when you perform a search quickly.
Yahoo Axis display will be slightly different in IOS version, because in devices such as iPad or iPhone is going to look like real browser.